Tuomas Suur-inkeroinen
Finland
k1 Matosinhos 2022 Presentation
The Karate1-Premier League- is the most important league event in the world of Karate. It comprises of a number of the most prominent Karate competitions and endeavours to bring together the best Karate athletes in the world in an open championships of unprecedented scale and quality.
Initiated in 2011 with two tournaments held in Paris and Istanbul, the Karate1-Premier League- has made exponential progress in terms of magnitude and status of the tournaments as well as the number of participants and countries represented.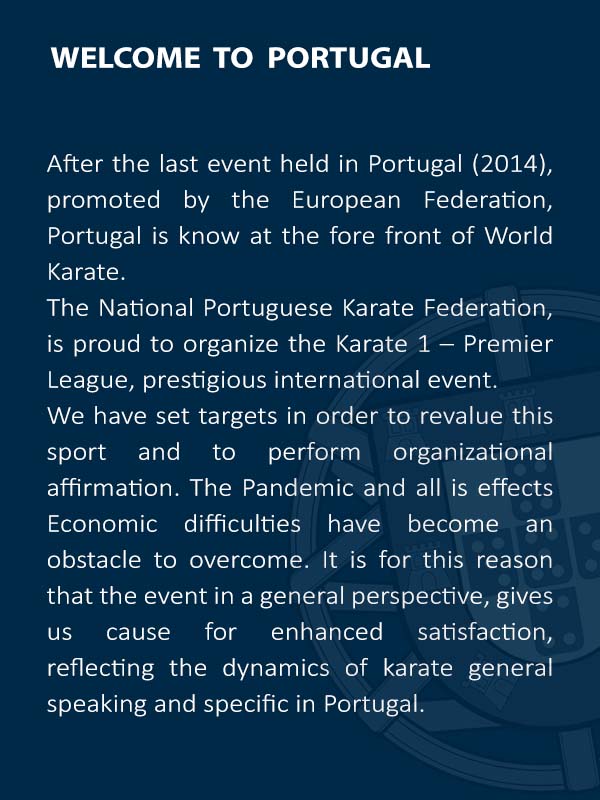 THIS YEAR 2022, THE K1 KARATE PREMIER LEAGUE EVENT, TAKES PLACE IN THE CITY OF MATOSINHOS

FNK-P PRESIDENT'S MESSAGE
Dear participants,
After the last event held in Portugal in 2014, promoted by the European Karate Federation, Portugal is known at the fore front of World Karate.
The Federação Nacional de Karate – Portugal is proud to organize the Karate 1 – Premier League, an event of high international prestige.
We have set targets to revalue this sport and to perform organizational affirmation. The pandemic and all its effects (economic difficulties) have become an obstacle to overcome. It is for this reason that this event, in a general perspective, gives us cause for enhanced satisfaction, reflecting the dynamics of karate, in general, and specifically in Portugal.
We hope and wish that this Karate 1 – Premier League, will be a great championship for the World Karate family. We will do everything to make sure that you are presented with an excellent stay, feeling that you participated in an event of excellence that provided you unforgettable moments.
As President of the Federação Nacional de Karate – Portugal, I would like to welcome you and said we are working with all the commitment, so that you may feel the warmest welcome.
Thank you for honoring our Federation with your presence in Portugal. Greetings,
Carlos Silva
Federação Nacional de Karate – Portugal's President
K1 KARATE PREMIER LEAGUE
MATOSINHOS 2022
need a place to stay
Find out where to stay in Matosinhos City
Matosinhos city
Manage arround the city… visit the most popular sites.